Tempered Glass Mosaics
Code: HC22007
Dates: September 24 - October 1, 2019
Meets: 6:45 PM to 8:45 PM
Sessions: 2
Location: Lower Merion High School
Course Fee: $105.00
There are still openings remaining at this time.
This is a no-fail mosaic class! Creating a collage-layering project where you may bring small momentos to embed in your art project. The board we'll be working on is approximately 8"X10", so it's optional to bring beads, broken pottery, wordage, photos or anything printed flat (laser printer) to work with. Lots of materials will be supplied and grouting will be done in the second session.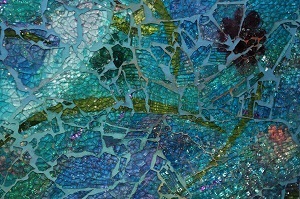 Lower Merion High School
315 E Montgomery Avenue
Ardmore, PA 19003
Map & Directions
Carol Shelkin
CAROL SHELKIN is an artist that honed her skills as a painter, potter and educator for many years. After attending Pennsylvania Academy of Fine Arts she continued a successful career teaching and showing her artwork. Her work has been displayed at The Museum of Man, San Diego, Chicago's Navy Pier and Philadelphia Magic Gardens to name a few. She has been accepting mosaic commissions, teaching, and creating contemporary and fine art works. Carol has designed and collaborated on several community projects and installations which included working with seven hundred school children. More information is available on her website: http://www.carolshelkinmosaics.com.